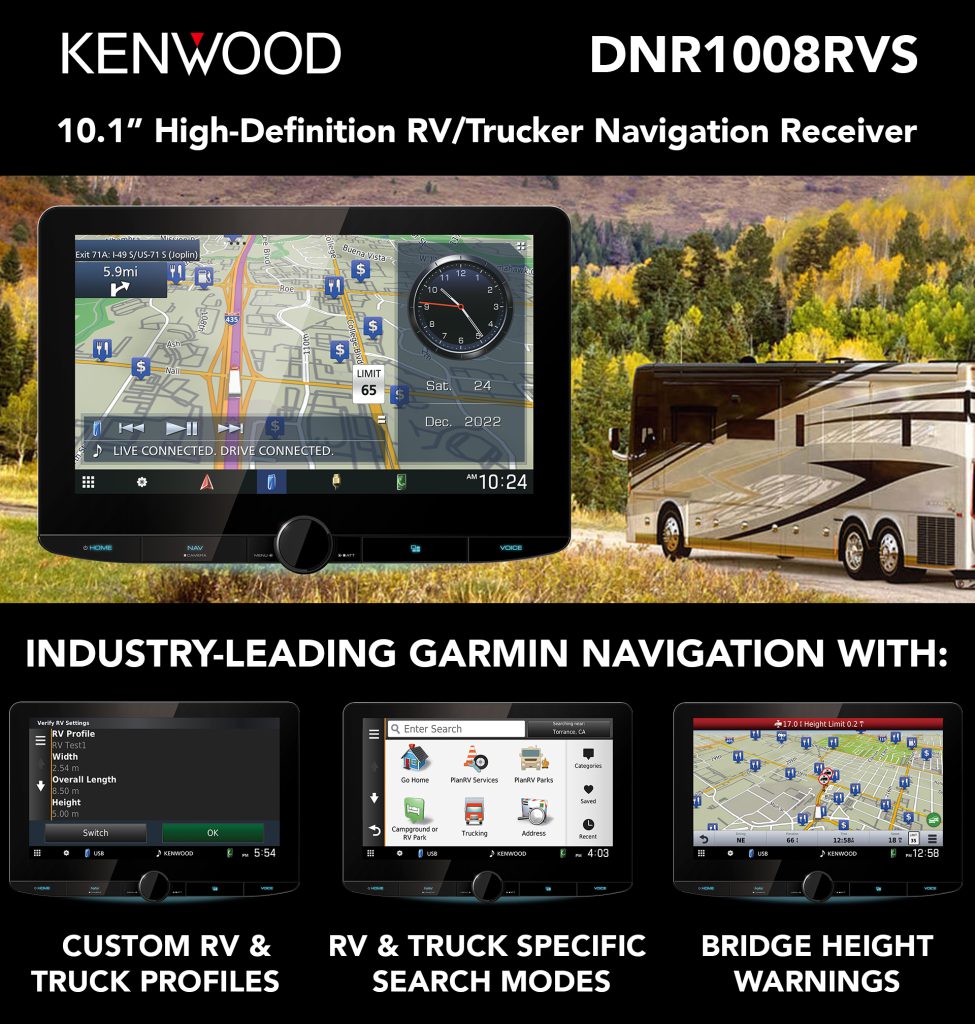 LONG BEACH, CALIF., January 31st, 2023 KENWOOD USA (kenwood.com/usa/car) is announcing a "MEGA" upgrade for RV and large truck owners. Its new DNR1008RVS is a 10.1" high-definition floating panel navigation receiver that has been designed and optimized specifically for use in recreational vehicles and trucks.
The large 10.1" display on the DNR1008RVS has over 2x the actual viewing area of a typical 7" display. It employs a "Bonded Optical Display" to further enhance its high-definition 1280 x 720 (720P) capacitive touch panel, providing vivid colors and high contrast. Optical Clear Adhesive is added between the touch screen and the LCD to eliminate the air layer and suppress light reflection and glare. This revolutionary feature enhances contrast and brightness, maintaining the very best display visibility in various vehicle environments. Its floating panel design also consists of a 3-way adjustable display: 2 positions Forward/Backward (fixed by screws), 4 positions Up/Down (fixed by screws), and user-adjustable tilt by -10° to +45°.
By leveraging the power and simplicity of Garmin® navigation, its RV/Trucker-specific features include:
RV & TRUCK SETTINGS PROFILE: Vehicle-specific settings such as Width, Length, Height, Gross Weight, Number of Trailers, etc. can be input to improve map routing performance.
RV & TRUCK SEARCH MODES: RV or Truck selectable search modes include popular queries such as PlanRV Services, PlanRV Parks, Campground or RV Park, TruckDown, and Trucking search selections.
BRIDGE HEIGHT WARNINGS: Bridge clearance alerts will be displayed based on the vehicle profile information that has been entered into the receiver. Bridges that are lower than the vehicle
profile setting will be avoided on the recommended route automatically.
The navigation screen can even be displayed on a secondary monitor, such as an above-mounted television, by using the receiver's AV-Output and a composite video cable (sold separately). Garmin enhancements also include 3D building and landmark on-screen map display, life-like terrain views, photo real junction view (displaying what complex interchanges look like before you arrive), 3 years of Garmin map care, KENWOOD Traffic Powered by INRIX® services, and more precise location positioning, With built-in Garmin mapping, the navigation routing will continue to work in areas with no or low GPS signals, such as tunnels and rural areas, providing the best overall navigation experience.
Flexibility and control are especially important in larger trucks and RVs. The DNR1008RVS is compatible with Apple CarPlay™ and Android Auto™ via either a wireless or USB wired connection. Phone display options also include screen mirroring with touch control over a wireless connection for compatible Android® devices, as well as an HDMI™ input. It has 4 camera inputs, enabling the connection of a variety of camera configurations, including KENWOOD's CMOS-740HD high-definition camera, on-screen viewing angle touch control with KENWOOD's CMOS-320 camera, and connectivity to KENWOOD's proprietary DRV-N520, a high-resolution dash camera and safety system that provides footage playback and control directly through the KENWOOD receiver.
The display's home screen is comprised of a Source Control and Driving Widget, allowing the selection of a clock, compass, or equalizer setting, etc., while the background allows a selection of navigation, album art, audio visualizer, or photos. Photos and wallpaper can easily be customized over a connected phone's Bluetooth connection, thanks to the KENWOOD Portal App. Additional basic-function control is available via the KENWOOD Remote App S.
The DNR1008RVS also has a data port that is compatible with the Automotive Data Solutions® iDatalink® Maestro RR and RR2. Select vehicle communication bus systems can benefit from this connection by providing additional data and information to the user, along with the ability to trigger 12-volt accessories such as lighting, electronic locks, etc. (RR2 only).
Sound quality and performance are also unparalleled in its class, incorporating tuned audiophile-grade components, 3 sets of 4-volt pre-outs, a 13 Band EQ with time alignment, parametric EQ, 3-way crossover, and dual-zone A/V controls. High-Resolution Audio is supported over its USB connection. High-Resolution Audio is high-quality sound that far exceeds CD standards and can play 192kHz / 24bit sampling DSP. It captures and beautifully expresses details and nuances from ultra-high to low frequencies. The DNR1008RVS is also SiriusXM-Ready® (SiriusXM Connect Vehicle Tuner and subscription sold separately), providing access to over 150 channels of the widest variety of ad-free music, plus entertainment, news, comedy and sports you won't hear anywhere else.
For more information on KENWOOD and the DNR1008RVS, please visit its web page here:
https://www.kenwood.com/usa/car/navigation_multimedia/dnr1008rvs/
About JVCKENWOOD USA Corporation
JVCKENWOOD USA Corporation is a wholly owned subsidiary of JVCKENWOOD Corporation and is a leading developer of car entertainment products for the consumer market, two-way radio communications systems for public safety, private industry/amateur users, and video equipment for the broadcast and professional markets. For detailed information, call KENWOOD USA at 1-800-536-9663 or visit us at http://us.jvckenwood.com and www.kenwood.com/usa.
SiriusXM and all related marks and logos are trademarks of Sirius XM Radio Inc. All rights reserved.