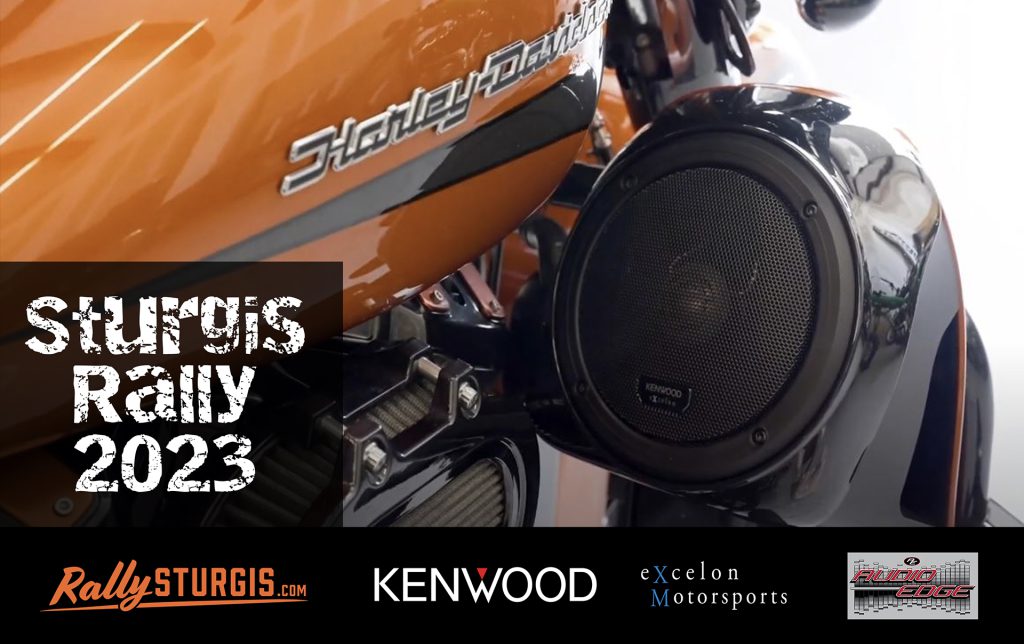 LONG BEACH, CALIF., August 2nd, 2023 KENWOOD USA (kenwood.com/usa/car), manufacturer of premier entertainment and information solutions for the automotive, marine, and motorsports aftermarket, is proud to announce its participation in the highly anticipated Sturgis Rally, held in South Dakota, August 4th– 13th. This marks a significant occasion for KENWOOD as they proudly showcase, sell, and install their state-of-the-art eXcelon Motorsports motorcycle audio products designed and engineered for Harley Davidson® motorcycles.
Riding on the open roads has never been more fun than with KENWOOD's advanced eXcelon motorcycle audio systems. Designed exclusively for the Harley Davidson family of motorcycles, these audio products guarantee an unbeatable experience for riders and passengers alike. Whether you crave heart-pounding bass or crystal-clear highs, eXcelon motorcycle audio products are engineered to deliver unparalleled performance even in the most challenging riding conditions.
"As part of our commitment to partnering with and supporting our authorized dealer network, we are delighted to announce our collaboration with Chris Hulin and his team at The Audio Edge (theaudioedgeonline.com), based in Nederland, TX," said John Lucas, KENWOOD VP of Sales. "Their expertise and passion for delivering top-notch audio solutions align perfectly with KENWOOD's commitment to excellence." The Audio Edge will join KENWOOD in its booth at 1601 Lazelle St in Sturgis to offer live product demonstrations, personalized advice, and professional installations for all eXcelon Motorsports motorcycle audio products as well as their motorsports action cam system.
KENWOOD invites all motorcycle enthusiasts and audio aficionados attending the Sturgis Rally to visit its booth and experience the future of motorcycle audio firsthand. Its dedicated team, together with The Audio Edge, will be on-site to demonstrate the remarkable features and performance of its eXcelon Motorsports motorcycle audio products. Prepare to be amazed by the seamless integration, durability, and unmatched audio quality that KENWOOD brings to the riding experience.
For more information on KENWOOD's eXcelon Motorsports motorcycle audio line, please visit its website here:
https://www.kenwood.com/usa/car/motorcycles/
About JVCKENWOOD USA Corporation
JVCKENWOOD USA Corporation is a wholly owned subsidiary of JVCKENWOOD Corporation and is a leading developer of car entertainment products for the consumer market, two-way radio communications systems for public safety, private industry and amateur users, and video equipment for the broadcast and professional markets. For detailed information, call KENWOOD USA at 1-800-536-9663 or visit us at http://us.jvckenwood.com, www.kenwood.com/usa.
©2023 JVCKENWOOD Corporation. All Rights Reserved. KENWOOD® and eXcelon® are registered trademarks of JVCKENWOOD Corporation. Harley-Davidson®, Electra Glide®, Road Glide®, Street Glide®, Ultra Classic®, Tri Glide®, CVO™, Screamin Eagle® and Tour-Pak® are trademarks or registered trademarks of Harley-Davidson, Inc. and/or its affiliates and if used or implied are for reference only. There is no affiliation between Harley-Davidson, Inc. and/or its affiliates and JVCKENWOOD Corporation and/or its affiliates. All other trademarks are the property of their respective owners. Specifications subject to change without notice.