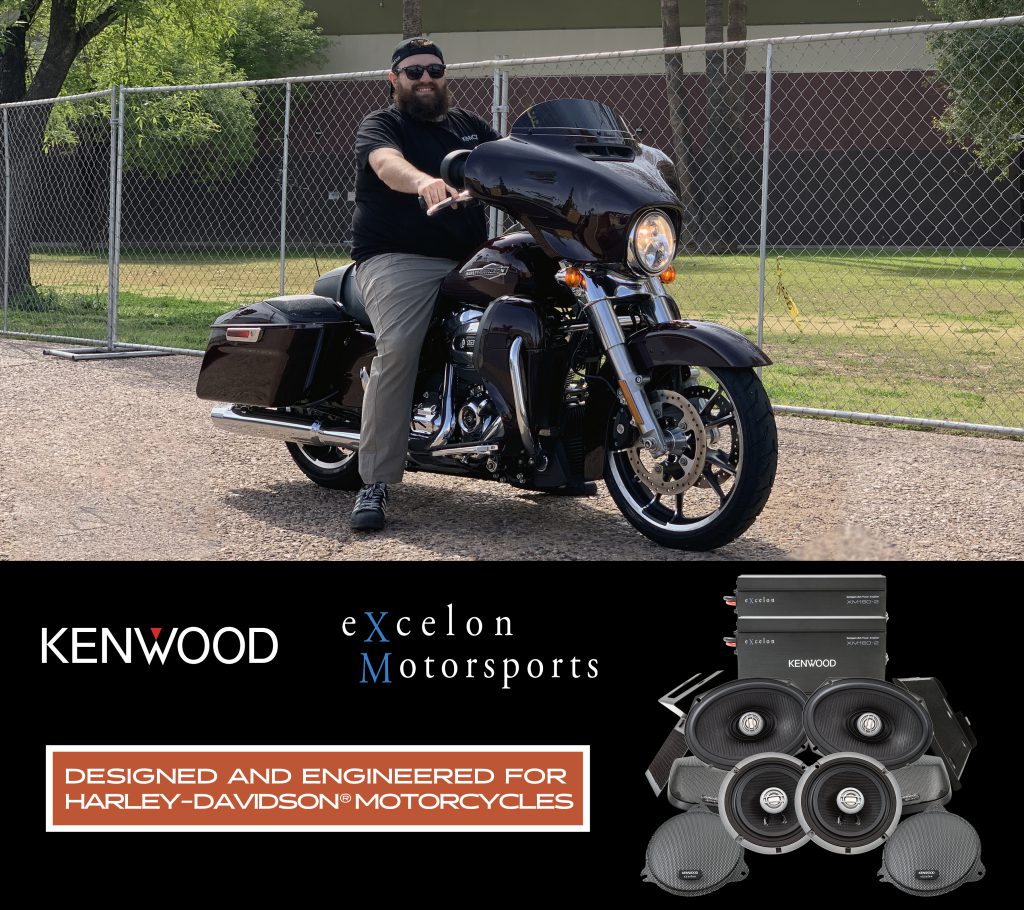 LONG BEACH, CALIF., June 23rd, 2023 KENWOOD USA (kenwood.com/usa/car), manufacturer of premier entertainment and information solutions for the automotive, marine, and motorsports aftermarket, proudly announces the launch of its highly anticipated eXcelon Motorsports motorcycle audio line specifically designed and engineered for Harley-Davidson® motorcycles. The cutting-edge audio products are now shipping, allowing motorcycle enthusiasts to elevate their riding experience with unparalleled sound quality and performance.
Designed with meticulous attention to detail and crafted to meet the unique demands of Harley-Davidson® motorcycles, the KENWOOD eXcelon Motorsports motorcycle audio line delivers an immersive audio experience like never before. Combining KENWOOD's renowned audio expertise with state-of-the-art technology, these solutions offer exceptional sound clarity, power, and durability to withstand the challenges of the open road.
Key Features of KENWOOD's eXcelon Motorsports Motorcycle Audio Line:
Products are designed and engineered specifically for Harley Davidson® motorcycles
Sleek designs that enhance the bike's overall appearance
Plug and Play installation, keeping factory wiring intact
Designed to work with the motorcycle's charging system
Built to work with a factory or aftermarket receiver, no flash is needed
Convenient packages to build a system in stages or all at once
KENWOOD's launch of the groundbreaking eXcelon motorsports motorcycle audio line is accompanied by a steadfast commitment to delivering exceptional customer support and service. With authorized dealers spread across the nation, riders can rely on their expertise to help them choose and install the ideal audio solution, tailored specifically for their Harley-Davidson® motorcycles.
"KENWOOD is excited to bring our passion for high-quality audio to the motorcycle community with our eXcelon Motorsports motorcycle audio line," said John Lucas, KENWOOD VP of Sales. "We understand the unique requirements of Harley-Davidson® riders, and our goal was to develop audio systems that deliver uncompromising performance, enabling riders to enjoy their favorite music with incredible clarity while on the road."
For more information on KENWOOD's eXcelon Motorsports motorcycle audio line, please visit its website here:
https://www.kenwood.com/usa/car/motorcycles/
About JVCKENWOOD USA Corporation
JVCKENWOOD USA Corporation is a wholly owned subsidiary of JVCKENWOOD Corporation and is a leading developer of car entertainment products for the consumer market, two-way radio communications systems for public safety, private industry and amateur users, and video equipment for the broadcast and professional markets. For detailed information, call KENWOOD USA at 1-800-536-9663 or visit us at us.jvckenwood.com, www.kenwood.com/usa.
©2023 JVCKENWOOD Corporation. All Rights Reserved. KENWOOD® and eXcelon® are registered trademarks of JVCKENWOOD Corporation. Harley-Davidson®, Electra Glide®, Road Glide®, Street Glide®, Ultra Classic®, Tri Glide®, CVO™, Screamin Eagle® and Tour-Pak® are trademarks or registered trademarks of Harley-Davidson, Inc. and/or its affiliates and if used or implied are for reference only. There is no affiliation between Harley-Davidson, Inc. and/or its affiliates and JVCKENWOOD Corporation and/or its affiliates. All other trademarks are the property of their respective owners. Specifications subject to change without notice.