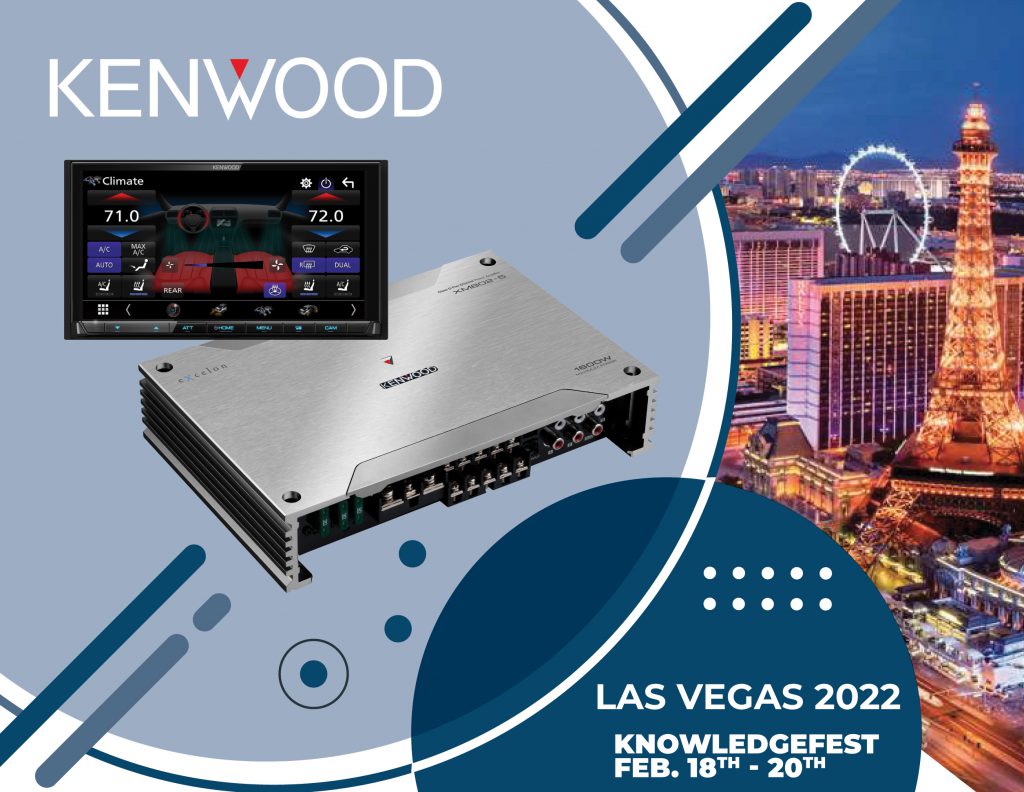 Long Beach, Calif., Feb. 18th, 2022 – KENWOOD USA will be debuting 12 new products to expo and training attendees at the KnowledgeFest in Las Vegas, Feb. 18th-20th. 3 multimedia receivers with 2 supporting accessories along with 7 marine/motorsports products will be unveiled at the event.
After a short hiatus of new multimedia receiver product releases, KENWOOD will be shipping 3 new multimedia receivers in the upcoming months at pricing to be announced at that time. The KENWOOD DMX9708S and eXcelon DMX908S both feature a 6.95" capacitive touch panel display with wireless and wired support for Apple CarPlay™ and Android Auto™, wireless Android® screen mirroring, HD Radio®, Advanced iDatalink® Maestro RR support (with newly designed GUI's), SiriusXM® ready compatibility, 4 camera inputs including the ability to connect the DRV-N520 integrated dashboard camera, and support for Hi-Res Audio. The eXcelon DMX908S steps up from the DMX9708S' 3 sets of 4-volt RCA pre-outs to 5-volt, includes tuned audiophile-grade components, and a 2-year warranty. The eXcelon Reference DMX958XR adds in a 6.8" 1280×720 HD capacitive touch panel display, rear HD camera input, and wireless Hi-Res Audio support. Marking a first for this wireless-enabled digital platform, each receiver will also have a 3-3/8" short chassis mounting depth for ease of installation, a USB Type-C input for up to 3 amps of charging, and an HDMI Type-D (mini) input for added video input flexibility. New accessories available for these receivers include the KCA-HD200 HDMI Type-A to Type-D cable and the KCA-RCDV340 wireless remote control.
KENWOOD is also introducing the first of its entirely new line of products branded as "eXcelon Motorsports" at the event. "With a further emphasis on providing solutions for more types of on and off-road vehicle applications, expanding our marine and motorsports lineup to also include a top-tier of products branded as eXcelon Motorsports was necessary to meet this demand from the market," said Mike Roberts, Vice President of Sales and Marketing for KENWOOD USA's car electronics sector. "As our focus on eXcelon has always been sound quality with peak performance, we recognized the need for this level of performance in the outdoor environment and are excited to soon be expanding this line to provide even more premium solutions."
Kicking off the list of new eXcelon motorsports products are 3 amplifiers to include the XM502-1 Class D mono (500W RMS x 1 @ 2 ohms), XM302-4 Class D 4-channel (75W RMS x 4 @ 2 ohms), and XM802-5 Class D 5-channel (500W RMS x 1 + 75W RMS x 4 @ 2 Ohm). The inclusion of conformal coated circuit boards, protective terminal covers, and stainless-steel mounting screws ensures these amplifiers are ready for the elements. Pricing will be announced at launch.
For the "ULTIMATE" in outdoor protection, 3 IPX-Rated waterproof amplifiers will also be displayed, to include the KAC-M5014 compact 4-channel amplifier (75W RMS x 4 @ 2 ohms, now shipping), the KAC-M5024BT compact 4-channel Bluetooth® amplifier with included wired multi-function remote to control music from a smartphone or other Bluetooth®-equipped source (75W RMS x 4 @ 2 ohms, shipping soon), and the KAC-M5001 compact mono amplifier with an included remote level control knob (300W RMS x 1 @ 2 ohms, shipping soon). These new "EXTREME" durability amplifiers boast not only IP-certified protection from water and dust, but also ASTM B117 salt corrosion resistance and shock protection, making them the perfect companion for your boat, side-by-side, motorcycle, and more. There "ULTIMATE Performance" is delivered through a combination of strategic sound quality components, including high-quality polymer multi-layer capacitors, magnetic shields for the output coils, metal stud power connections, all resulting in enhanced overall sound quality. This trio of waterproof compact amplifiers enables both ala-carte and full off-road system building solutions, making for the perfect accompaniment to its new KMR-D382BT marine/motorsports single-DIN CD player, which will also be shipping soon.
Training to cover these new products will be conducted by the KENWOOD training team on both Friday and Saturday. Additional KENWOOD team members will be on-site at the KENWOOD booth.
For detailed information on specific features for each product, please view their respective product pages as they become available at www.kenwood.com/usa/car.
New product web pages currently available include:
KAC-M5014: https://www.kenwood.com/usa/car/marine/kac-m5014/
KAC-M5024BT: https://www.kenwood.com/usa/car/marine/kac-m5024bt/
KAC-M5014 & KAC-M5024BT Amp Dyno Video: https://youtu.be/2aHVBliKevo
KMR-D382BT: https://www.kenwood.com/usa/car/marine/kmr-d382bt/
KDC-BT282U: https://www.kenwood.com/usa/car/receiver/kdc-bt282u/
About JVCKENWOOD USA Corporation
JVCKENWOOD USA Corporation is a wholly-owned subsidiary of JVCKENWOOD Corporation and is a leading developer of car entertainment products for the consumer market, two-way radio communications systems for public safety, private industry/amateur users, and video equipment for the broadcast and professional markets. For detailed information, call KENWOOD USA at 1-800-536-9663 or visit us at http://us.jvckenwood.com and www.kenwood.com/usa.