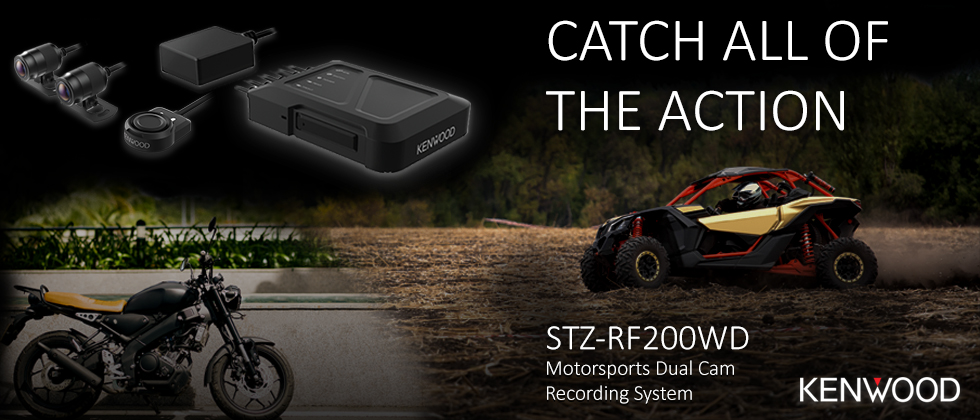 Long Beach, Calif., November 30th, 2021 KENWOOD USA is now shipping its motorsports-grade STZ-RF200WD Integrated Dual Camera Recording System.

Motorcycle and motorsports enthusiasts now have a stealth solution to simultaneously record in both the front and rear of their vehicle in FULL HD 1920 x 1080 resolution. The STZ-RF200WD consists of 2 externally-mounted cameras, a control switch, and a GPS antenna, all carrying an IP66/67 rating, meaning that they can resist high-pressure, heavy sprays of water and are fully sealed against dust entry. The "brain" of the system is an IP55 rated hide-a-way control box, meaning that it is protected against dust ingress and low-pressure water jets. The control box would typically mount underneath a seat or in another covered location in most motorcycles, side-by-sides/UTV's, ATV's and more. When additional length beyond each camera's 6.6 ft. cable is needed, optional camera extension cables in lengths of 3.3 ft. (STZ-RFCC100, MAP $34.95), 9 ft. (STZ-RFCC300, MAP $49.95), and 16 ft. (STZ-RFCC500, MAP $64.95) can be added.

The STZ-RF200WD's compact cameras come in at just under 1" in size for ease of installation and a stealthy look, all without compromising recording quality or their wide viewing angle of 195°. High Dynamic Range (HDR) technology is implemented to ensure the image is clearly defined in all lighting conditions day and night. They also feature Electronic Image Stabilization (EIS), which creates a smooth and clear video by reducing blurring caused by vibration.

With its Auto On/Off recording functionality, the STZ-RF200WD's built-in GPS records speed, latitude, and longitude whenever the system is active. It's also equipped with a 3-axis G-Sensor and adjustable sensitivity, which is designed to detect a collision and store that event in a dedicated folder. Its built-in Super Capacitor provides enough backup supply to ensure that even if the system's power is lost, the recorded video file will save correctly and not become corrupted.

Users have two methods to access recorded videos. They can install the KENWOOD Motorsports CAM App on their iOS® or Android® device, then connect via a localized Wi-Fi® network by pressing and holding the STZ-RF200WD's control switch for 3 seconds and continuing to follow their device connection prompts. Once connected, this method enables users to visually adjust each camera's field of view, adjust all system settings and review all recorded files. Upon reviewing, each file can be downloaded directly to the user's device for easy file sharing. Alternatively, the included 32GB microSD card (upgradeable to 256GB) can be manually removed from the control box, allowing users to open the files from their PC or Mac using the KENWOOD Motorsports CAM viewer desktop software. This viewing software expands upon the app's reviewing capabilities, including map data and speedometer display.

"From protection in case of insurance fraud to capturing beautiful road, backroad, and water scenery, motorcycle and motorsports enthusiasts have long demanded a high-quality dashboard camera-type recording solution. This product is more than just safety, it allows you to capture and share your epic adventures with your friends and family," said Mike Roberts, Vice President of Sales and Marketing for KENWOOD USA's car electronics sector. "Our team of engineers has truly delivered on this challenge and we are thrilled to be continuing to fulfill our mission of expanding our motorsports presence."

For detailed information on specific features for each product, please view their respective product pages at www.kenwood.com/usa/car.

STZ-RF200WD web page: www.kenwood.com/usa/car/dashboard_camera/stz-rf200wd
STZ-RF200WD promo video: https://youtu.be/Sua1eLM0_Ug
STZ-RF200WD unboxing video: https://youtu.be/OI8_QlAbrmc
STZ-RF200WD installation video: https://youtu.be/R7pOD4WSIxI

About JVCKENWOOD USA Corporation
JVCKENWOOD USA Corporation is a wholly-owned subsidiary of JVCKENWOOD Corporation and is a leading developer of car entertainment products for the consumer market, two-way radio communications systems for public safety, private industry, and amateur users, and video equipment for the broadcast and professional markets. For detailed information, call KENWOOD USA at 1-800-536-9663 or visit us at http://us.jvckenwood.com and www.kenwood.com/usa.