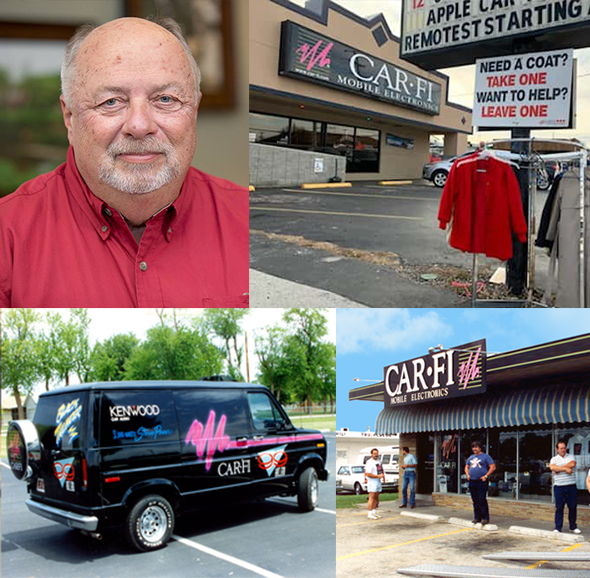 Long Beach, Calif., July 19th, 2021 KENWOOD USA is honored to recognize the retirement of Rick Snelson, (now previous) owner of the Car-Fi Mobile Electronics retail stores in Springfield and Nixa, Missouri.
Recently we had the opportunity to speak with Rick Snelson (now former owner of Car-Fi, MO). Snelson recently announced he was retiring and selling his Car-Fi retail stores. As a loyal supporter of KENWOOD for over 4 decades, we wanted to learn the tips and tricks he used to succeed in the world of 12-volt retail.
"It all started with the inspiration of my entrepreneurial father who chose to open up a TV and Appliance store when I was 15 years old. At that time, I was going to school for half of the day, and working the other half, learning the nuts and bolts of customer service," said Snelson. Seven years later, he accelerated into his own ventures of ownership and sales management, of which soon-after he was introduced to KENWOOD, selling it for the first time at a store called Stereo Buff in Springfield, MO. His keen business sense and talent was quickly sought after, and by 1981 was recruited by World Radio in Council Bluffs, IA as their buyer. He worked with them to build their storefronts from 3 to 20 in a matter of years, where KENWOOD was their lead brand.
So, where does one go from here you may ask? Snelson had an appetite for bringing happiness and excitement to customers through his love of cars, music, and the experience achieved from that combination. It was this notion that led Snelson to open up Car-Fi in Springfield, MO in 1986 as the FIRST Car Audio only store in Springfield, MO.
The city of Springfield could feel his love for the music, as they helped him propel the business to a staff of over 14, with a 2 million dollar a year revenue by the store's second year in business…and that was just the beginning! "At that time, we were selling cassette players, both shaft and pullout style…primarily KENWOOD (remember they created the first aftermarket removable anti-theft radio?)." We also capitalized on our local limousine business, of which an alignment with a strategic partner in the wholesale industry (George Hillman) yielded substantial results.
By the late 90's, Car-Fi grew to 5 million dollars a year in annual sales in a city of just 150,000 people. "Capturing this sort of revenue required significant promoting," said Snelson. "In order to earn and grow your business, you must not only provide exceptional customer service, but you also have to make it fun. Sometimes I feel like I took that a bit too far… but it worked!"
Snelson was known for some outrageous sales promotions, such as the Jello Jump. No, that's not a typo…Snelson would literally put 100 marbles in a physical pool filled with Jello. The marbles had numbers on them that correlated to a specific prize (everything from t-shirts to radios). 3,000+ people would attend the events. You couldn't drive onto or even close to the parking lot filled with customers. Other events included car giveaways, sound-offs, and even manager on the roof sales, where he or a manager would get on the roof and live up there for days. "We couldn't come down until we hit our sales goals," said Snelson. "We literally had a port-a-potty on it. Radio DJ's would be there giving things away all day, making it a fun event for all who attended."
When we asked Snelson about what type of sales promotions he would recommend, he stated that of all the promotions they held, his tent or warehouse sales have always been the most beneficial. "I don't think there's anything better than a tent/warehouse sale," said Snelson. "We would bring in $150,000 in sales on a 3-day weekend event. I would highly recommend this type of event to any 12-volt retail store location. You need to make it a selling event."
Throughout Snelson's career, he was pivotal in many industry organizations. When In Car Experts (ICE) debuted as a 12-volt buying/marketing group, he was one of its very first members, helping to put it together with David Schwartz. Shortly after, he became one of the first 5 board members of the Mobile Electronics Specialists of America (MESA), a 12-volt buying/marketing group led by its Executive Director Ryan Gunter.
Snelson has also been no stranger to charity work and giving back to his community, even giving away one of his vans filled with gear to a charity that will carry on this legacy. He's supported a teen homeless outreach program for many years, helping them to get clothing and supplies for school. He even put a rack out in front of his store with a sign reading: "Need a coat, take one. Want to help? Leave one." "I have known Snelson for over 30 years," said Brett Phelps of Progressive Sales and Marketing, who represents the KENWOOD line for Snelson's "former" territory. "He has a huge heart and would walk through glass for people he barely knew when they genuinely needed his help. It's been an honor to have worked with and been a friend of Snelson for all these years."
"What's driven me year after year is that I've never lost sight that the music matters," said Snelson. "From the way we present the product from the time a customer walks in the door, to the final in-car demonstration, the way the music sounds and that smile on your customer's face is what truly matters and makes it all worthwhile."
We at KENWOOD want to offer our sincerest appreciation to Snelson for his loyalty and support of the KENWOOD line over the years, and we wish him the best in his retirement.
For more information about KENWOOD, please visit www.kenwood.com/usa/car.
About JVCKENWOOD USA Corporation
JVCKENWOOD USA Corporation is a wholly owned subsidiary of JVCKENWOOD Corporation and is a leading developer of car entertainment products for the consumer market, two-way radio communications systems for public safety, private industry and amateur users, and video equipment for the broadcast and professional markets. For detailed information, call KENWOOD USA at 1-800-536-9663 or visit us at http://us.jvckenwood.com and www.kenwood.com/usa.