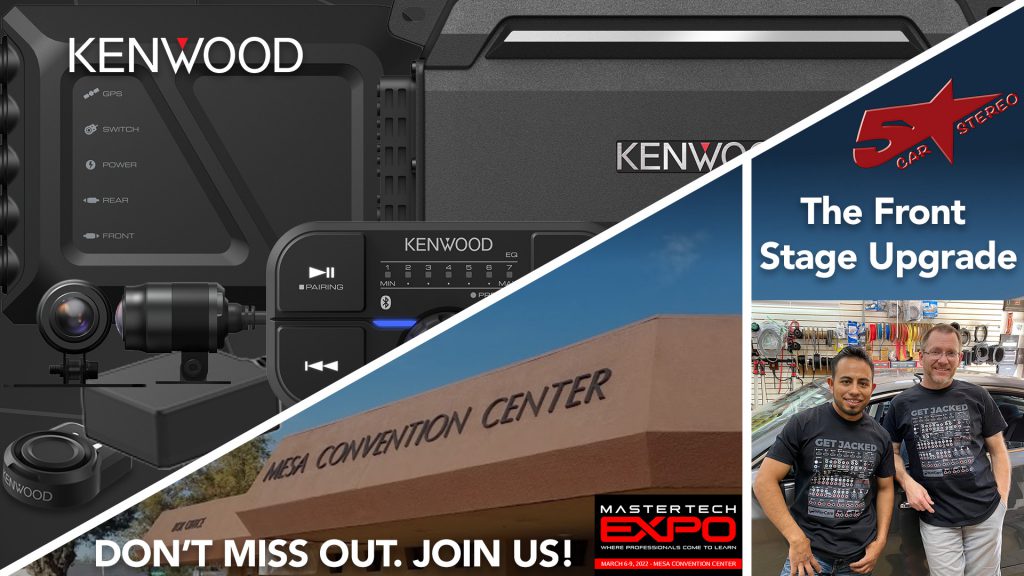 Long Beach, Calif., Feb. 28th, 2022 KENWOOD USA is pleased to announce that Dean Beyett and Fernando Lopez of Five Star will be joining them to present on "The Modern Deck and Four" during their training class at the Mastertech Expo in Mesa, AZ on Monday, March 7th @ 7:00 PM.
KENWOOD will kick off the training with a 2-part series, followed by Beyett and Lopez conducting part 3:
Part 1: No Need For Dash Cutting! – Keep your vehicle's original look and still improve the sound.
Part 2: Why KENWOOD's NEW Motorsports Action Camera System will ensure you never miss a moment.
Part 3: The old days of basic car stereo upgrades are over… or are they? Learn how to optimize your
listening experience with this "Front Stage Upgrade" experience.
KENWOOD will also have a booth presence both indoors and outdoors with multiple demo vehicles installed with the latest KENWOOD products. Beyett and Lopez will be in the booth conducting additional training along with KENWOOD team members during the expo floor hours March 7th-9th.
"Education and interaction with products are crucial to fully understanding and being able to offer the best experience to our customers," said Mike Roberts, Vice President of Sales and Marketing for KENWOOD USA's car electronics sector. "By partnering with the Five Star team, attendees will gain an additional perspective with real-world techniques on how to provide the best in service and installation."
Information on KENWOOD products can be found here: www.kenwood.com/usa/car.
Information on the Mastertech Expo can be found here: https://www.mastertechexpo.com/
About JVCKENWOOD USA Corporation
JVCKENWOOD USA Corporation is a wholly-owned subsidiary of JVCKENWOOD Corporation and is a leading developer of car entertainment products for the consumer market, two-way radio communications systems for public safety, private industry and amateur users, and video equipment for the broadcast and professional markets. For detailed information, call KENWOOD USA at 1-800-536-9663 or visit us at http://us.jvckenwood.com and www.kenwood.com/usa.