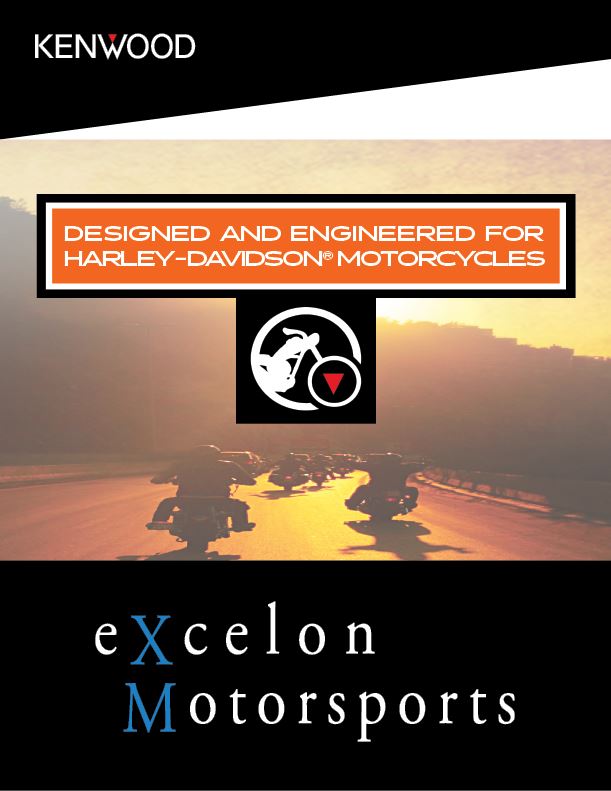 LONG BEACH, CALIF., February 3rd, 2023 KENWOOD USA (kenwood.com/usa/car), manufacturer of premier entertainment and information solutions for the automotive, marine, and motorsports aftermarket, announced the addition of a dedicated category of products aimed to boost the audio experience for Harley-Davidson® motorcycle riders. KENWOOD's new eXcelon Motorsports "Motorcycle Audio" product line offers customers a better sound experience, while also maintaining all the factory controls and fitment with a "Plug & Play" solution.  
The lineup will consist of all-in-one product packages designated by years 1998-2013 and 2014+, along with a la carte amplifier, speaker, and accessory solutions. Packages will offer direct fitment replacement speakers and sound-matched amplifier(s), enhanced with better durability and power handling than OE solutions, allowing riders to achieve better sound and higher volume levels. Expansion kits such as replacement hard saddlebag lids (1998-2013) and an existing lid cut-in kit (2014+) are precisely designed for the XM69R 6x9s. Riders can also add speakers to the lower crash bars of the bike with optional speaker pod accessory kits, all with an enhanced fit and finish. "Boot" resistant steel grilles and more, strategically designed amplifier mounting plates, and more set riders up for a full system out of the gate or easy future system expansion.
"To ensure that our dealers would be equipped with proven products right out of the gate, we looked for a partner that already lives and breathes motorcycle audio," said John Lucas, KENWOOD Vice President of Sales. "Just like our success in partnering with companies like iDatalink™ and Garmin®, when it came to a partner for motorcycle audio, Hogtunes' level of trusted product, support, and separate network of distribution was the logical choice. We couldn't be happier with the outcome of the products that we've developed and the support that Mike "Pez" Pesdirz (Owner/President of Hogtunes) has provided."
The KENWOOD eXcelon Motorsports Motorcycle Audio line is set to begin shipping this Spring.
For more information on KENWOOD, please visit its website here:
About JVCKENWOOD USA Corporation
JVCKENWOOD USA Corporation is a wholly owned subsidiary of JVCKENWOOD Corporation and is a leading developer of car entertainment products for the consumer market, two-way radio communications systems for public safety, private industry and amateur users, and video equipment for the broadcast and professional markets. For detailed information, call KENWOOD USA at 1-800-536-9663 or visit us at http://us.jvckenwood.com, www.kenwood.com/usa.
©2023 JVCKENWOOD Corporation. All Rights Reserved. KENWOOD® and eXcelon® are registered trademarks of JVCKENWOOD Corporation. Harley-Davidson®, Electra Glide®, Road Glide®, Street Glide®, Ultra Classic®, Tri Glide®, CVO™, Screamin Eagle® and Tour-Pak® are trademarks or registered trademarks of Harley-Davidson, Inc. and/or its affiliates and if used or implied are for reference only. There is no affiliation between Harley-Davidson, Inc. and/or its affiliates and JVCKENWOOD Corporation and/or its affiliates. All other trademarks are the property of their respective owners. Specifications subject to change without notice.