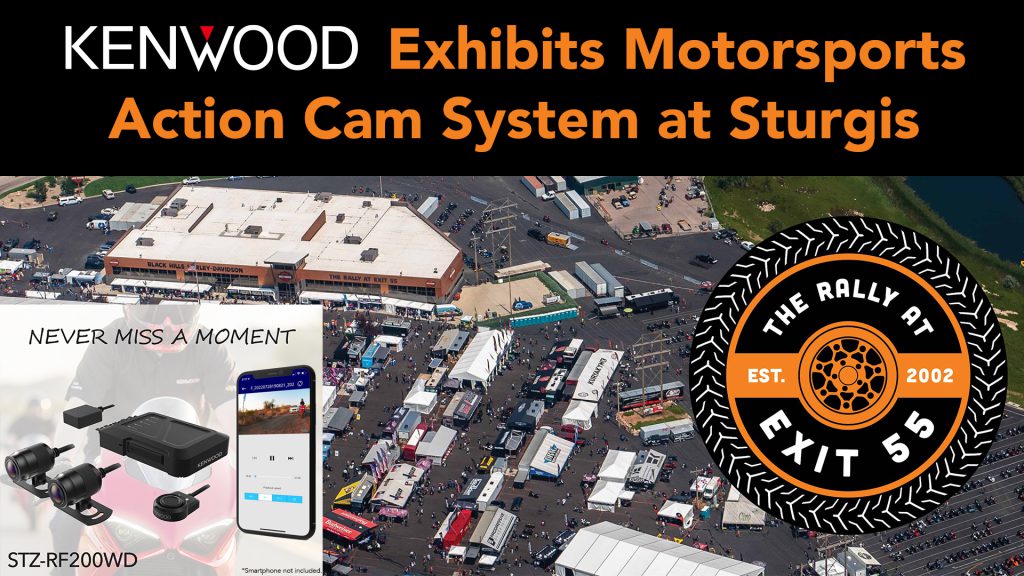 Long Beach, Calif., Aug. 3rd, 2022 – KENWOOD USA announced it will be exhibiting its STZ-RF200WD Motorcycle/Motorsports Action Camera Recording System at the 2022 Sturgis Motorcycle Rally. The STZ-RF200WD will be available for sale and installation at KENWOOD's tent in the vendor section at Black Hills Harley-Davidson, known as "The Rally at Exit 55," August 3rd-13th.
"The biggest challenge that we've faced with bringing this product to market is simply the awareness that it exists," said Mike Roberts, KENWOOD VP of Sales and Marketing." As soon as we can demonstrate how easy it is to capture all of their motorsports action (from both the front and rear simultaneously), they are hooked. Gone are the days of having to attach bulky cameras to a helmet. Showing this product at the Sturgis event is the perfect opportunity for us to catapult consumer awareness about this incredible recording solution."
KENWOOD staff will be at their tent with the system installed in motorcycles to explain and demonstrate exactly how the STZ-RF200WD works. Since this is a "stealth" installed recording solution, the compact hide-a-way control box mounts easily underneath the seat of most motorcycles, while its multi-control switch typically mounts near or on the handlebars. When a rider wants to review their FULL HD recorded footage, they can remove the included 32GB SD card and review it on a computer, or instantly link their smartphone to the system wirelessly, enabling them to also change the system's settings.
After a warm welcome making its debut at last year's Moto GP event in Austin, TX, the STZ-RF200WD has now expanded to become the choice for not only motorcycle enthusiasts, but also a multitude of marine, motorsports, and even RV and traditional vehicle users alike, as it now offers optional camera extension cables to span a total length of over 40 feet.
For detailed information on the STZ-RF200WD, please visit its web page here: www.kenwood.com/usa/car/dashboard_camera/stz-rf200wd
STZ-RF200WD Promo Video: https://youtu.be/Sua1eLM0_Ug
STZ-RF200WD Unboxing Video: https://youtu.be/OI8_QlAbrmc
STZ-RF200WD Installation Video: https://youtu.be/R7pOD4WSIxI
STZ-RF200WD User Submitted Footage YouTube playlist:  https://youtube.com/playlist?list=PLItSezT_ewRyvn00LM1h5fP4TwWWp-KJn
About JVCKENWOOD USA Corporation
JVCKENWOOD USA Corporation is a wholly-owned subsidiary of JVCKENWOOD Corporation and is a leading developer of car entertainment products for the consumer market, two-way radio communications systems for public safety, private industry/amateur users, and video equipment for the broadcast and professional markets. For detailed information, call KENWOOD USA at 1-800-536-9663 or visit us at http://us.jvckenwood.com and www.kenwood.com/usa.