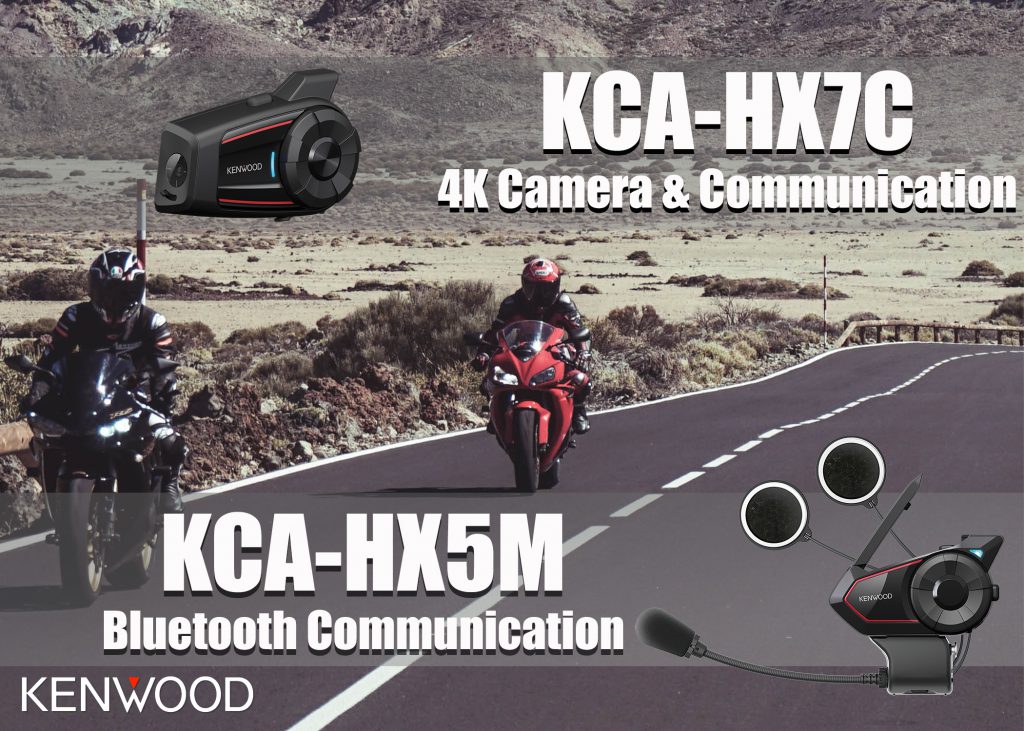 Long Beach, Calif., January 26, 2021 KENWOOD USA is now shipping two new products; the KCA-HX5M (MAP $329.95), a Motorcycle/Motorsports Bluetooth® Communication System, and the KCA-HX7C (MAP $399.95) a Motorcycle/Motorsports 4K Camera & Bluetooth® Communication System.

With its increasing presence in the world of motorsports, KENWOOD is now leveraging its Communications and Dash Cam DNA by offering motorsports helmet riders 2 unique experiences; advanced helmet-to-helmet rider communication and 4K camera recording with advanced helmet-to-helmet rider communication.

The core function of the KCA-HX5M is to enable riders to seamlessly communicate with each other with crystal clear sound. It incorporates Bluetooth 4.1 technology to provide a powerful Mesh Intercom™ with a range of up to 1.2 miles, supporting up to 4 riders at a time, and can even connect with other popular brands of intercom systems like SENA. Additional intercom modes available include Open Mesh™ and Group Mesh™. In Open Mesh mode, it can connect with a virtually unlimited number of riders, whereas Group Mesh mode allows for a closed group intercom function for up to 24 riders. Its Advanced Noise Control™ can also be enabled to reduce background noise during your intercom conversation. Bluetooth intercom talk time is rated at 13 hours, with Mesh intercom at 8 hours.

Other unique features include its ability to make and receive phone calls, FM radio and music listening, music sharing via Bluetooth, and voice command functionality. With its Audio Multitasking™ capability, riders can have an intercom conversation while simultaneously listening to music, FM radio, or hearing GPS turn-by-turn directions.
The KCA-HX5M consists of a water-resistant helmet-mounted main headset and clamp kit. The headset incorporates a Mesh Intercom, Bluetooth Antenna, Status LED, Jog Dial, and buttons for the Mesh Intercom and Phone. The clamp kit adds a Static Boom Microphone, 2 Speakers, MP3 and Earbud Ports, as well as Quick Release and Ambient mode buttons. A wired microphone and wired boom microphone are also included in the package, along with additional installation accessories. Both KENWOOD's recommended helmet mounting hardware and optional glued surface mounting adapter parts are included for versatility and ease of installation.

The KCA-HX5M provides additional access and control with both a smartphone application and computer-based companion software. The MESH Utility for KENWOOD smartphone application is available on the Google Play Store® and the iOS App Store®, and provides access to device settings, user guides, and more. The Intercom Device Manager for KENWOOD PC or Apple software allows you to upgrade the firmware and configure its settings directly from your computer. It can be downloaded from www.kenwood.com/cs/ce.
The KCA-HX7C helmet-mounted camera system delivers a lightweight, compact, and aerodynamic alternative to action cameras or other bulky camera options. It expands upon the KCA-HX5M's primary feature set with the addition of a built-in 4K UHD (Ultra High Definition) camera that records at 30 FPS (Frames Per Second), and other slight feature variances, including 4-way intercom communication up to 1 mile away only, as opposed to the KCA-HX5M's Mesh system for more than 4 riders. The camera features a 125-degree field of view and the lens can be rotated 30 degrees for optimal rider recording view. Smart Audio Mix™ is added, which allows recording of everything you hear through your speakers as well as your voice during video recording. Bluetooth intercom talk time is rated at 20 hours and video recording at 1.5 hours.

The KCA-HX7C shares the Intercom Device Manager for KENWOOD PC and Apple software for firmware upgrades and configuration settings, but utilizes two unique smartphone applications; the Intercom Utility for KENWOOD application allows you to configure the headset settings, while the Intercom Camera for KENWOOD application allows you to see a live preview from the camera, manage recorded videos, as well as configure the video settings using the built-in Wireless LAN feature of the camera system. When the camera and app are connected, the camera is synchronized with the smartphone's date and time.

"Be it a motorcycle, UTV, or other motorsports riding activity, it's simply not as much fun to ride alone." said Mike Roberts, Vice President of Sales and Marketing for KENWOOD USA's car electronics sector. "With these systems, riders can fully enjoy their riding experience together, knowing that they are receiving the ultimate in sound quality and performance."

For detailed information on specific features for each product, please view their respective product pages at www.kenwood.com/usa/car.

KCA-HX5M web page: https://www.kenwood.com/usa/car/marine/kca-hx5m/

KCA-HX7C web page: https://www.kenwood.com/usa/car/marine/kca-hx7c/

About JVCKENWOOD USA Corporation
JVCKENWOOD USA Corporation is a wholly owned subsidiary of JVCKENWOOD Corporation and is a leading developer of car entertainment products for the consumer market, two-way radio communications systems for public safety, private industry and amateur users, and video equipment for the broadcast and professional markets. For detailed information, call KENWOOD USA at 1-800-536-9663 or visit us at http://us.jvckenwood.com and www.kenwood.com/usa.